I'm still very happy with my Samsung Note 3 mobile. Handy format (especially for someone with bad eyes). Fast enough and a very good replaceable battery and 32 Gb internal memory. So I think it is a real allrounder and I used it also as a navigation unit
The Note3 has only one disadvantage…. the software which is supplied by Samsung. Or better said the software which is no longer supplied by Samsung. This beautifull device receives no Android upgrade and stays behind with Android 5. And that is a real pitty. If you buy a nice laptop (with good specs), it would be very strange if the supplier says "we do not support upgrades, so you have to keep working with WindowsXP"… So bizar. I rather think this is part of the earning model of the Mobile Giants. Customers have to buy sooner a new mobile with the latest fancy gadgets. This behavior can be stimulated to become good mobiles faster elderly. In this way a mobile seems to be a more disposable product. But it must be said Samsung designed this mobile with a replaceable battery!!!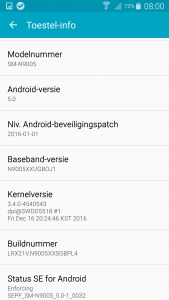 Frequently I have a look on  tweakers.net with the following search criteria
a device for max 700 euro
android 6, 7 of 8
a replaceable battery
Than I think it is really amazing when you discover only 83 devices… Against 469 devices without a replaceable battery.
So time for a customrom !
Yeah sounds nice a customrom, but what's it all about? A customrom is in my opinion an Android version which is constructed by another party. Eventually I found 2 interesting customroms:
But how you gonna do it? I have to confess it was for me a real pain in the ass… An unfortunately I did not note done all the exact steps. And after a while I discovered that I messed something up. Even after restore a backup the Samsung noticed that the device was "modified". So the Knox (security) bit was set to 0x1 and the warranty is now over…. but boooooring 🙂
So placing a customrom can be done with the following steps. (Be aware: 0,0 warranty :))
Download Odin necessary to flash TWRP or to install SuperSU (root)
Set the mobile in the developersmode. 7x taps on the buildnumber, when in developersmode, enable USB error tracing
Root the device , herewith it is possible to trigger the Knox bit….
Install TWRP from the Play Store, TWRP is a tool which has to be flashed. With the installed TWRP the correct TWRP version can be downloaded. In my case:  twrp-3.2.1-0-hlte.img 9.4M 2017-12-09 12:12:42 EST
After TWRP is flashed, the mobile must be rebooted And keep de Power + Volume Up pressed. When all goes well, you will enter TWRP and you can make backups, restore backups, do installs, etc.
Create a backup with TWRP. Connect the mobile with USB to your computer and put the created backup on a safe place on your computer. Better be safe than sorry.
Download a customrom, for example LineageOS for the Note3 and put the file in the root of your mobile device.
Now you can install the downloaded zip with TWRP. Read these  instructions. Start off 'Installing LineageOS from recovery'
Also put open_gapps in the root, so you can use the Google Play Store kan gebruiken.
After these installation, reboot and …. fingers crossed. The first reboot takes about 3-5 minutes…. so relax !!!
The first time I was very glad the new customrom just booted. Everything looked fine, only strange that the SIM-card not was recognized. Well that cannot be difficult…. But after strugling for a while, so a minor drawback. But the next day… a fresh start with new possibilities.
Eventually I saw the light ….see this article starting at step 4 "Update bootloader and Modem". With Odin saved to the mobile, after reboot yesssie, yesssie,… the SIM card is now recognized and we can really do phonecalls again.
Experiences till now
The first days I used the Resurrection Remix. All worked well, very nice! Only I had bad feelings…. what if…. this rom is shipped with a keylogger or other sneaky backdoor app? Then you are really a little fucked up…
So again I read more articles. Also restoring a backup was not really an option because Samsung 'saw' the device was modified and would not supply updates anymore. During the installation of Resurrection Remix there were more steps to be taken. Such as installing Magisk and a modified kernel…
I cleaned everything again. And installed the most recent LineageOS. This rom is cleaner than RR, and there is less to tweak. Till now I am really satisfied with this customrom. For security I changed a lot of passwords (always a good action). And where possible I enabled the 2-way authentication. And from now on more consciously using my mobile. My mobile looks fresh and up-to-date again. An other advantage of a customrom is the fact that it is more compact than the original Samsung 'bloatware'  versions.
On the other hand it is sad that you have to make these manoeuvres. Perhaps it is more poiite of the mobile manufacturers, to tell with the sale "that the supplied android is free for 2 years". After that it should be possible to take a subscriptoin for about 20 euros a year, so new android versions also will be provided. Unless the specs of you mobile are not sufficient enough.